Employee Field Day and Picnic
by Linda Gunther
Benefits Manager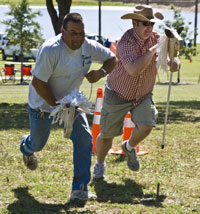 Congratulations! Thanks to everyone's creativity, team work, and participation from all city departments and divisions in the Spotlight on Wellness Field Day Event, it was a great success. See how a little physical activity can make such a big difference. Everyone was smiling, laughing, getting exercise and getting energized.
All the planning and hard work of our Spotlight on Wellness Team paid off. For the past eight months the team has been meeting discussing various opportunities to get employees more engaged with wellness in the area of physical activities and nutrition.  The recommendation of the Field Day Event was suggested and the rest is history. We hope everyone enjoyed themselves as much as we did.
The team will continue to work together to explore other opportunities to engage a broader employee base such as the Field Day Event.   
Now it's up to each and every one of you to keep yourself energized and physical active. By doing so, you will feel better and get more out of life. So grab your family members, co workers and friends and join a sport, take a walk, just do….you owe it to you.
Give us your feed back on what you thought of the Field Day Event. Let us know what you participated in and what you enjoyed the most.
I would like to recognize a few of the individuals from our team that worked so hard on this event.
Patty Da Silva, Jim Carse, Charles Hadley, Hassan Farhat, Malcolm Brown, Eddie Zapata, Emily Ingalls, Alan Moreno, Trish DeLaTorre, Lewis King, and Arnold Wells. And there were many other individuals that just jumped in that day to help out. So many that I could not remember everyone's name…..but you know who you are.
Again, thank you to everyone… It was a great success.
Photos by Arnold Wells